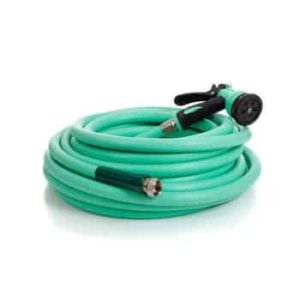 You most likely either have or know someone who has hypertension or high blood pressure (HBP). Approximately 50 million people – about 20% of Americans – have HBP. HBP is a serious condition where the heart and blood vessels work harder than normal. Think of high blood pressure as being similar to the pressure of water in your garden hose. If all you need to water your plants is a small stream but, instead, water sprays out with high pressure – look out. When your garden hose pressure is too great, your plants get blasted and can be damaged in numerous ways if you don't address the problem, just like your body with high blood pressure.
Excess straining of the heart and blood vessels is more than just an inconvenience for your organs. Uncontrolled HBP can lead to serious health conditions such as congestive heart failure, heart attacks, stroke, atherosclerosis, brain damage, vision loss, and kidney failure.
How do I know if I have high blood pressure?
Have you seen your blood pressure numbers, perhaps from one of those self-test machines found at pharmacies? They can be a little confusing unless you know what you are looking at. Blood pressure is measured as systolic pressure (the top number) over diastolic pressure (the bottom number). Systolic pressure is the force at the moment the heart beats; pumping blood throughout the body. Diastolic pressure measures the pressure between beats; when blood flows back to the heart. Blood pressure has different classifications for adults and we typically look at the systolic, or top number, measured in millimeters of mercury:
Optimal blood pressure less than 120
Pre-hypertension 120-139
Stage I hypertension 140-159
Stage II hypertension 160 or greater
How to address high blood pressure
Many people use medications to treat HBP. Diuretics rid the body of excess fluids and salt. When there is less fluid in the vessels, there is less pressure. Vasodilators make blood vessels wider. Perhaps the most common of these drugs is angiotensin-converting enzyme (ACE) inhibitors. ACE inhibitors interfere with the production of vasoconstrictors, which has the effect of relaxing blood vessels and lowering blood pressure. The problem with these medications is that not only are they costly, but they can also be accompanied by numerous side effects including dry cough, dizziness, fatigue, light-headedness, headaches, nausea, and impotence. To get similar results with fewer or no side effects, individuals with HBP have turned to natural solutions that are known to lower blood pressure such as exercise, decreasing stress, dietary changes (like lowering salt intake), and the inclusion of natural supplements into their daily regimen.
Bonito (fish) peptides are nature's ACE inhibitors
Scientists have recently been working with type of amino acid naturally found in a small fish. The bonito fish belongs to the tuna and mackerel family and their naturally-occurring short chains of amino acid molecules, known as peptides, may provide natural, safe blood pressure support for individuals with pre-hypertension and stage I hypertension (those with the top number of their blood pressure less than 160). Bonito peptides are a mixture of nine specific peptides derived from the muscles of bonito fish and are the strongest known natural ACE inhibitor. They are believed to lower blood pressure by preventing the body from producing a hormone that raises blood pressure. Specifically, bonito peptides appear to inhibit the creation of angiotensin II; this results in the relaxing of the arterial walls and a reduction of pressure-causing fluid retention.
Three human clinical trials, published in journals such as Nutrition Research, have been successfully conducted using bonito peptides in individuals with borderline or mild HBP. The trials lasted five to eight weeks and used an optimized bonito peptide mixture of 1.5 grams daily. Results of this research show a significant decrease in blood pressure in about 64% of individuals with an average decrease of 10 mmHg in systolic blood pressure and 7 mmHg in diastolic blood pressure after several weeks of use. Clinical trial research demonstrated no side effects when used alone or in combination with other antihypertensive drugs, no increase in blood pressure when missing a dose, no lowering of blood pressure in healthy individuals with normal blood pressure, and a single dose of 20 times the recommended dose to healthy and hypertensive subjects produced none of the effects reported by ACE inhibitor drugs.
There are other sources of peptides that have been shown to inhibit ACE including peptides from chicken, milk and other fish. What makes a supplement of bonito peptides superior to these others is that while others show activity in test tube studies, they are not active when administered to animals or humans. The difference seems to be that the bonito peptides are absorbed intact when taken orally, while the others are broken down by digestion.
Maintaining optimal blood pressure is critical
HBP cannot be taken lightly. By keeping your blood pressure in the optimal range, you can help improve the length and quality of your life. Cutting back on salt intake and eating plenty of fruits and vegetables can drop blood pressure by as much as 5 points. If you are overweight, losing weight can also help. Dropping 11 pounds can reduce your systolic blood pressure more than 4 points. Physical activity can also reduce blood pressure in people with HBP. And unlike prescription medication, bonito peptides are a natural product that has been shown to effectively lower blood pressure in pre-hypertensive and stage I hypertensive individuals without any harmful side effects.
How to get bonito peptides
Aside from eating bonito fish, the best way to get these peptides is by supplementing with a product like Vasotensin by Metagenics. Vasotensin is considered one the premier sources of bonito peptides because its peptides are derived from an intensive, patented process and are tested to verify the presence of LKPNM, which has been identified as the most active peptide in bonito fish. If you've been diagnosed with high blood pressure, or have a history of it your family and want to take preventative measures, I recommend taking a look at what bonito peptides and Vasotensin can do.
I hope this information is useful to you and encourages you to both be aware of your blood pressure and take steps to lower it if it becomes a problem. If you have any questions regarding the concepts discussed here or anything else, you can reach our customer service team at 888-460-3091 or e-mail them at customerservice@oakwaynaturals.com.
Until next time, stay healthy!
Yours in health,
Dr. Gregg Gittins