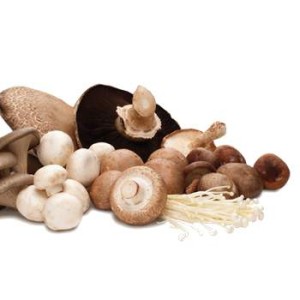 There is no shortage of products that claim to help people get through cold and flu season. But for those who like to focus on scientifically-backed natural medicines, consider making room in your medicine cabinet for an effective new immune-booster – mushrooms.
In some parts of the world, mushrooms have been used medicinally for centuries. However, many people in western medicine do not realize their healing and protective powers. I've personally seen it work on even the most skeptical of patients. I once had a 23-year-old college basketball player suffering from a three-and-a-half week upper respiratory infection. He had gone through two courses of antibiotics, and was considering starting a third, when I suggested that he try a mushroom extract formula to help boost his immune system.
He was very skeptical of this suggestion and of natural medicine in general. He decided to try a third course of a different type of antibiotic with the hopes of resolving his condition. After showing no signs of improvement, he called me and asked, "what was that crazy immune-booster stuff you were talking about?" After four days on the mushroom extracts, he noticed a profound improvement and was well on his way to recovery. I was very pleased and he, quite frankly, was amazed.
History of Mushroom Extracts
The ability to isolate the key active ingredients from fungi for medicinal use only goes back to about 1928 with the discovery of penicillin by Alexander Fleming. Derived from Penicillium fungi, penicillin was widely used to treat infections starting in the mid-20th century. We now know that other types of fungi extracts can be used to treat a wide array of health concerns.
What Mushrooms Can Do For You
Although there is still much to be learned about how exactly mushrooms help us avoid illness, scientists have found that since mushrooms require powerful antibacterial and antifungal compounds to live in their natural environment, we can benefit from the strong defenses that mushrooms have developed. Our immune system appears to be activated by certain beneficial components of mushrooms, such as ergothioneines (an amino acid that helps protect cells), antioxidants, anti-inflammatory sterols, lipids, glycosides, and mycoflavonoids. The most researched and well-understood immune-boosting component of mushrooms, though, seems to be beta-glucans.
Beta-glucans are naturally-occurring molecules that increase immune defenses by activating the part of the immune system that helps antibodies clear pathogens from the body. Beta-glucans also enhance the function of natural killer cells and macrophages, which are component cells of our immune system designed to destroy cellular debris, foreign substances, microbes, cancer cells, and anything that doesn't look like a healthy cell.
Beta-glucans are classified as polysaccharides, which are molecules that are known to stimulate immune function and inhibit tumor growth. Polysaccharides are believed to activate our immune system because, although they are harmless, they essentially fool the immune system into mounting an immune response. This begins a variety of immune system actions that can help our body fight off actual cold and flu viruses. Beta-glucans and polysaccharides are essentially like sparring partners for our immune system that, while posing no real threat, keep our immune system sharp and ready to go at the first sign of trouble.
What Mushrooms Are Best for Immune Health?
There are many varieties of mushrooms, but there are three particular kinds of mushrooms that have plenty of research on immune-boosting to back them up. The first is the shiitake mushroom. Shiitake mushrooms are well-known not only for their powerful medicinal properties, but also for their role in popular Asian dishes such as miso soup and Buddha's delight.
The Journal of the American College of Nutrition published a study that demonstrated how people who ate a shiitake mushroom every day for four weeks showed increased immunity. Researchers found that regular consumption of shiitake mushrooms led to significant immune system benefits such as better-functioning gamma delta T-cells, increased proliferation of natural killer T cells, and reductions in inflammatory proteins.
Another immune system-supporting mushroom to know is the reishi mushroom. Although its bitter taste keeps it from being a popular culinary ingredient, it is one of the oldest known mushrooms to be used medicinally. A study from Evidence-Based Complementary and Alternative Medicine found that reishi mushrooms are a great way to enhance and stimulate the immune system because their beta-glucans appear to be more bioavailable and favorable for medicinal applications than beta-glucans from many other sources. The researchers attributed the reishi mushroom's powerful beta-glucans to structural differences between them and other beta-glucans, as well as the beta-glucans' molecular weight and water solubility.
The last mushroom to know for keeping away colds and the flu is the maitake mushroom. According to a study published in Alternative Medicine Review, maitake mushrooms appear to be possibly the most powerful in regards to immune system-boosting benefits. Like the reishi mushroom, the polysaccharides in maitake mushrooms are uniquely complex compared to those of most other varieties of mushrooms.
Maitake mushrooms are a widely-used ingredient in cooking, similar to shiitake mushrooms. But the connection between shiitake and maitake mushrooms doesn't stop there. A study from Annals of Translational Medicine discovered that the only thing better for stimulating the immune system than maitake is the combination of maitake and shiitake. It is believed that maitake and shiitake mushrooms contain different kinds of polysaccharides that work synergistically when paired together.
The Best Way to Get Enough of These Mushrooms
Most people probably don't want to eat three different kinds of mushrooms nearly every day to keep their immune systems strong. Some people simply don't like to eat mushrooms. Fortunately, mushroom extracts contain highly concentrated dehydrated mushroom powder that is about 10 times as potent as the mushroom in its original state. So if you take a supplement with 1g of mushroom extract, it's the equivalent of eating 10g of whole mushroom.
There are supplements that conveniently supply all three varieties in each capsule, such as M/R/S Mushroom Formula by Pure Encapsulations and Mycotaki by Metagenics, which makes it even easier to harness the immune-boosting power of mushrooms. Not only do you not have to worry about which kind of mushrooms to be eating, but it also gives you controlled, effective medicinal doses of mushroom that can keep you healthy and feeling vital. For those who prefer liquid forms whenever possible, I recommend Thorne Research's Myco-Immune for the same reasons.
I hope this article encourages you to do use the remedies we can find in nature to keep sick days to a minimum this cold and flu season. If you have any questions regarding the concepts discussed here or anything else, you can reach our customer service team at: customerservice@oakwaynaturals.com.
Yours in health,
Dr. Gregg Gittins